Sharon, PA is a small Rust Belt town being given a second chance at life. Our mission here at JCL Development is to lead the charge to restore and reenergize our town. Every day we are collaborating, creating, striving, and reviving to help polish this hidden gemstone.
Dave Pegg's Barbering and Shave Parlor

Part three of the Independent Retailer's Month interview series featuring small businesses here in Sharon, PA.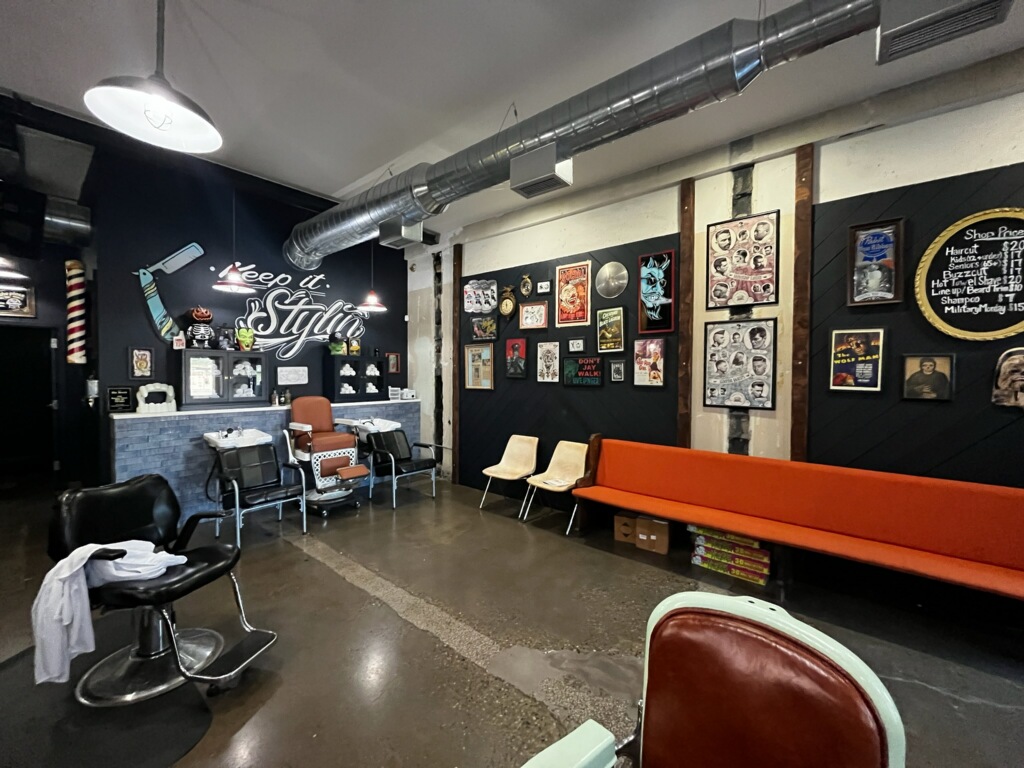 In celebration of Independent Retailers Month, JCL Development reached out to several small business owners here in downtown Sharon, PA in hopes of highlighting all the wonderful and unique things we have to offer. This week, I met with Dave Pegg, the owner of Dave Pegg's Barbering and Shave Parlor, to learn more about his business and his role in the revitalization of downtown Sharon, PA. Here's what he had to say…
Tell me a bit about Dave Pegg's Barbering and Shave Parlor. What services and products do you offer?
We do old school and new school haircuts and classic hot towel shaves. Just basic men's grooming, we want you to feel good and look good. As far as products go, we offer a modern water-based pomade. Keeping it simple.
Who is your main customer base? Do you tend to see older or younger clients coming in?
It's a good mix actually. A good mix of old and young. We get a lot of locals and also people traveling in. There's actually quite a few folks that come from out of town. We get folks from Grove City, a few from Ohio. A lot of Shenango valley folks.
How long have you been in the industry? What got you interested in being a barber?
I worked job to job when I was younger, but I always cut my buddies' hair. I also did makeup at the local haunted house. My choice for a career path was either to go into barbering, which I liked because I like old school stuff when it came to cutting hair, or do special effects makeup. Barbering was definitely more of a stable income. I like it a lot, and I can always do makeup work on the side.
How did you end up as a small business owner? Is this something you always saw yourself doing, or did you come by it unexpectedly?
Well, it's been about 13 years now that I've been a barber. I went to school, and I set out with the goal of opening my own shop. There were really no shops around here anymore. There were a couple older guys still doing it, but no one new was coming in. I also don't like working for other people, I like working for myself, you know? So I told myself I was going to work and learn, and when I felt comfortable I was going to open my own shop. I did, and I failed at first. But I learned and I came back home and did it again.
When did you open up at this location? How has it been going so far?
It's been a little over three years now. Before that, I was at my old location down the street for about 6 years. Business has been really good since the move, way better than it was. It had started to pick up when I was in my old shop, and when I moved here it just exploded. The location is really good, and everybody at JCL with Jim and Jen have been great about really supporting me and getting the word out. There was a lot of word of mouth after that.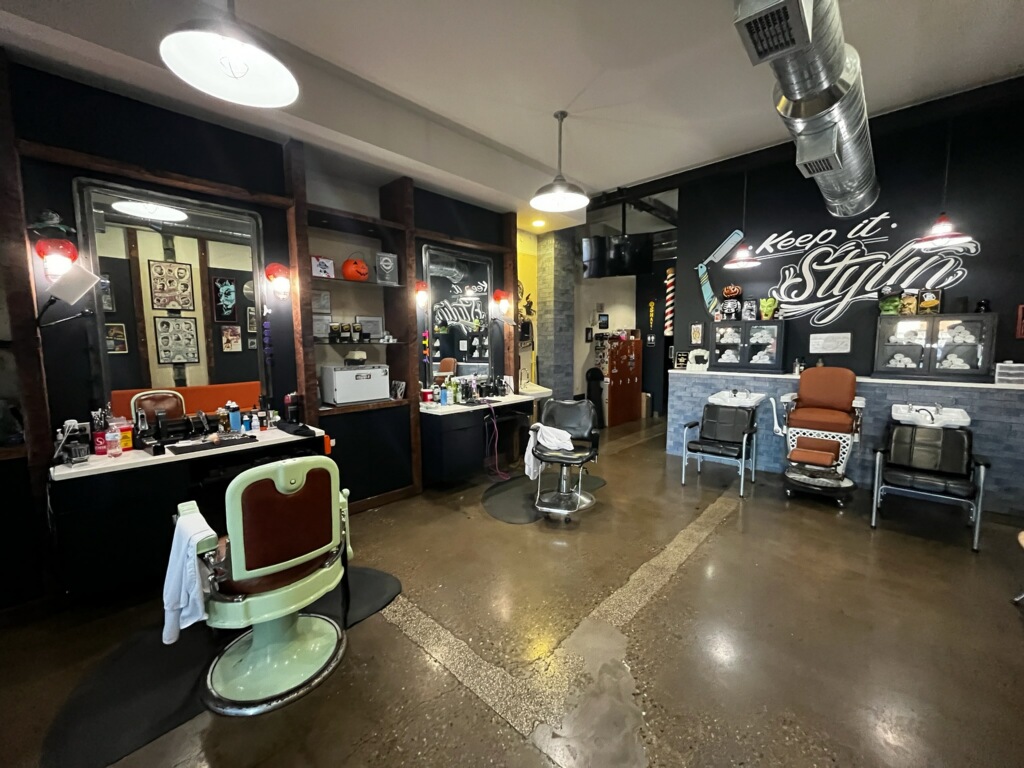 Why Sharon? What made you want to "set up shop" here?
It's my hometown. I was born and raised here. I thought for a while I was going to move away, I actually had a job offer with Paul Mitchell to teach at their school in Sacramento. My "in" there, the instructor that recommended me, quit her job right before I interviewed. So I went out for an interview, and ended up just being on vacation. But it worked out, because I ended up getting to stay at home. I opened my first shop in Slippery Rock, PA and it never felt right. I wanted to be home.
What is your favorite part about owning Dave Pegg's Barbering and Shave Parlor?
I guess… and I'm trying to find the right way to explain it… I like being my own boss, but a lot of people think that "oh, you make your own rules, you make your own schedule." And that's not the case. You have to be here, you have to show up. You have to hold yourself accountable for what you do and what you put out. And I like that, I like the structure. I was never that type of person before. It also makes me feel good that I put something out there that makes people feel good about themselves. Contributing to the community is another big thing for me, I like that I can do that here.
What has been your biggest challenge as a small business owner?
Learning the business side. I'm not a very "business savvy" person. I have family that have owned businesses in town for quite a while, and I've learned from people I've worked for. My uncle, my aunt, my mom, my grandpa, they tried to show me, but I never quite got it until I had my own business, you know? Learning the ins and outs of running a business has been the biggest challenge for me.
What does the future look like for Dave Pegg's Barbering and Shave Parlor? What would you like to see happen over the next few years?
Really, I'd like to get more involved in the community and do more for Sharon. I do small things, like a scavenger hunt that I do already. As you can tell by the shop, I'm big into Halloween. I carve foam pumpkins, and on Fridays in the fall I hide them around town and post on social media, and people hunt for them. This past year I also had huge Easter eggs and I filled them and hid them. It ended up being a big thing during the pandemic shutdown, people really liked it. It was something positive, and now every year people ask about it. I hope I can keep doing more stuff like that through the shop to be a positive force in the community.
What advice would you give others who are thinking about or have just started their own small business?
Stick to your path, and just do it. Don't be scared, just do it. That's one of the biggest things I've learned. I talk to younger kids sometimes, and they'll say "I want to start my own business." I tell them, look, if you run your numbers and it makes sense in your gut, go for it! I have high school teachers who come in here and have said, "I never thought you would do something like this." I mean, I was trouble when I was younger, you know? But I tell them, I had a plan and I stuck to it. Even when I was scared, I just stuck to it. And that's what I tell these younger kids. If you try and fail, you still learn. Stick to your path, it's as simple as that.
To learn more about Dave Pegg's Barbering and Shave Parlor and the services he offers, you can visit his website, like them on Facebook, or visit them in person at 42 North Sharpsville Avenue in Sharon, PA.