Sharon, PA is a small Rust Belt town being given a second chance at life. Our mission here at JCL Development is to lead the charge to restore and reenergize our town. Every day we are collaborating, creating, striving, and reviving to help polish this hidden gemstone.
Eyes of Faith Optical

Part two of the Independent Retailer's Month interview series featuring small businesses here in Sharon, PA.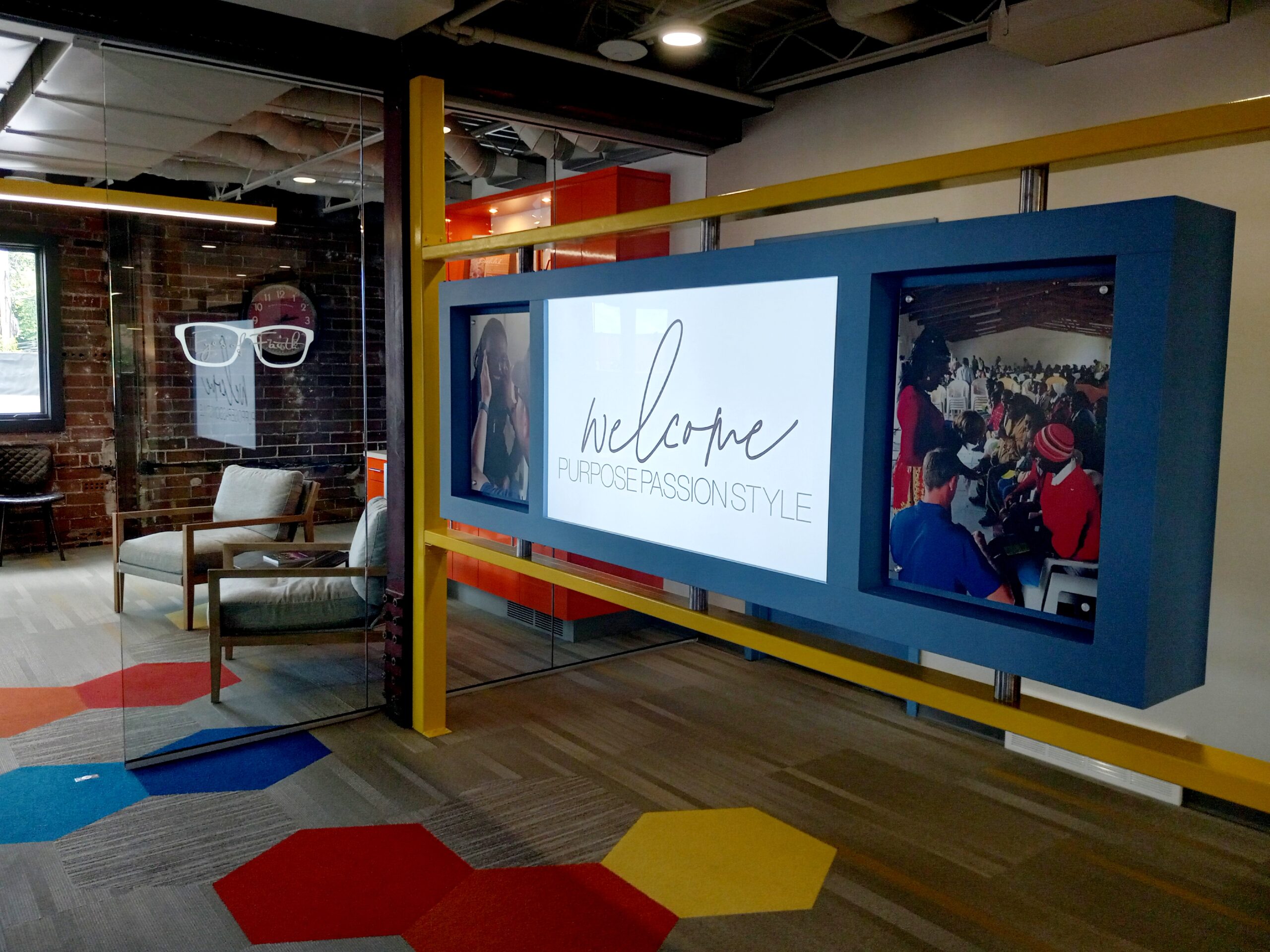 In celebration of Independent Retailers' Month, JCL Development reached out to several small business owners here in downtown Sharon, PA in hopes of highlighting all the wonderful and unique things we have to offer. This week, I met with Jim and Amy Schneider, the owners of Eyes of Faith Optical, to learn more about their business and their role in the revitalization of downtown Sharon, PA. Here's what they had to say…
Tell me a bit about Eyes of Faith. What services and products do you offer?
Jim: Well, we actually have multiple divisions now. Under the EOF Optical umbrella we have the Eyes of Faith Brand, which has been around since 2009. That brand we sell to independent eyecare professionals all across the country. We have about 450 locations that sell and distribute our product.
That brand's tagline, from day one, has always been "Purpose, Passion, Style." Our purpose has been to give back in a meaningful way. We've distributed over 130,000 pairs of glasses across the world. Our passion has always been to give hope to people. Especially nowadays, people are all looking for hope. The style aspect is where Amy comes into play. If she wasn't designing and building all these beautiful styles that people want to wear, then then purpose and passion aren't there.
Amy: Come September, we are expanding a new division called Sharon City Eyeworks. We'll be doing eye exams and contact lens fittings. People don't have to come in with an eye prescription in hand, we can do that here. Our community needs another source to get eye exams. We saw the opportunity and decided to fill that need.
Jim: It's going to be really advanced technology. We're going to have the most advanced pre-testing equipment available onsite. Everything will be virtual, but they'll still come in and sit in a traditional exam chair. On the screen will be the eye doctor, so they can have a conversation with them just like a traditional visit, but it will all be remotely controlled.
Amy: It's like your traditional eye exam on steroids. It's the latest technology and equipment, and the doctor is always in!
Where did the inspiration for Eyes of Faith come from? What inspired you to start everything that you are doing here?
Jim: Being a faith-based company, it all started in prayer. Early on in my faith walk I decided I was going to start praying every morning, even before my first cup of coffee. It was a Sunday morning in 2008, and I was praying that same prayer that I had been praying for 3 months. I just kept asking God to "use me." It wasn't a voice from Heaven that answered, but a gentle voice saying "start an eyewear company." I went and woke Amy up and told her, 'We're going to start an eyewear company!"
Amy: I basically told him "You're crazy!" and rolled over and went back to sleep!
Jim: After her cobwebs cleared though, she realized that she had been praying for the same thing. She knew how to fit people for glasses and to love them unconditionally. So our prayers basically came together.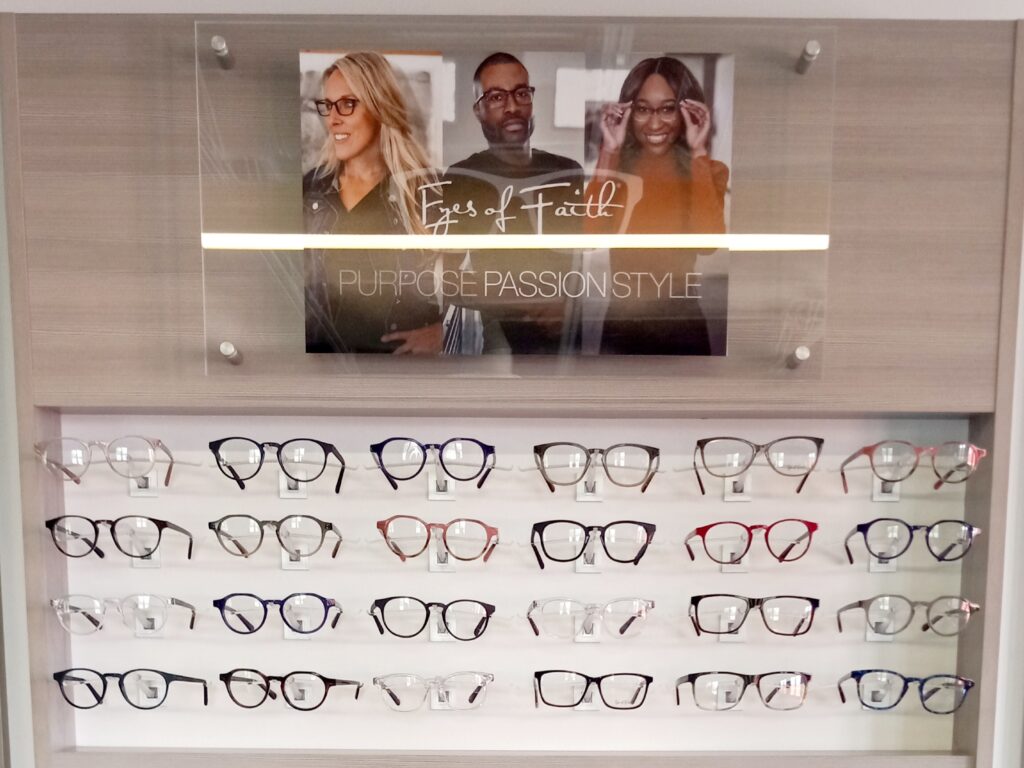 Do you see a lot of Sharon locals coming in, or do you see more business going out through your distributors across the country?
Amy: The majority of our sales are business to business, selling our brand to other eye care professionals. That's why we're so excited about Eyeworks, because it will bring more people in here to see us. People across the country know about our brand, but our community really doesn't. We're excited to invite the community in and share what's been happening across the country.
Jim: We are also a partner with ZIVAH, which is a new sunglass brand Headquartered in Franklin, TN with product design, logistics, and customer service here in Sharon, PA.  ZIVAH is a premium polarized sunglasses brand with a purpose to make the world a brighter place.  For every pair sold, we donate a solar powered light to get people out of darkness. They're literally being a light in the darkness for people living in poverty. That's been a project we've been working really hard on for the past year. Very time consuming, but fun. With that project, we've actually created two styles now that are being manufactured in Pittsburgh.
Why Sharon? Why set up shop here instead of anywhere else?
Amy: This is where our hearts lie. This is where we met. After we started dating, we both began our faith walk here. We got married at Covenant right next door, we had our wedding reception at Buhl Mansion. Every detail of our lives, down to the details of him buying my ring, is here. This is where our hearts are, so when we started the company here. It's exactly where we wanted to be.
Jim: If it wasn't for JCL and what they were doing down here we probably would not have had this opportunity to be in this amazing office space.
Amy: When we first started looking for space, it was right when they had the Armory ready. We were there for 14 months, and we needed more room. When this space became available, we immediately said "We'll take it!"
What is your favorite part about owning Eyes of Faith?
Amy: One word, and I'm sure Jim would say the same thing. Relationships. All the relationships we've made along the way. From the optical industry, to our local community, globally, all the relationships we've built over the last 14 years are amazing. It's all the people and experiences that we never would have had the opportunity to have if we hadn't said yes.
Jim: That is absolutely the number one for both of us. I also think a lot about leadership and what leadership is about. Leadership is about changing lives. It's not about how much money you make. If I was worried about how much money I would make I would still be in the insurance business. It's all about the lives that you are changing, whether it be your employees, your family members, or somebody getting a pair of glasses in Africa. Whatever the connection is, it's just this domino effect that happens. And when we think back and say "why did we start this company?"… That's the reason.
What has been your biggest challenge as small business owners over the years?
Jim: There are a number of challenges that come to mind. Every entrepreneur goes through tough times. I now publicly share this story, but for a long time I didn't. We almost closed our doors in 2014. We were strapped for cash, sales weren't coming in, we made a few bad decisions on license agreements. I mean, we just got crushed. And we made one of the toughest decisions we ever had to make, but it eventually became our biggest success. In 2015 we literally moved everything into our home and cut every expense known to man. Amy designed 12 new frame styles we call the "Twelve Disciples." And it literally saved the company.
Amy: Mostly because we refused to give up.
Jim: That was our biggest challenge, going through that. And, of course, going through 2020, which actually turned out to be a blessing in disguise. For me, our hardest thing overall has also been inventory management. Buying the right amount of product, getting it delivered at the right time. It's crazy because you'll get something in and say "these will fly off the shelves!" and they sit. Or "these will never sell" and they practically disappear.
Amy: Probably the biggest challenge from the pandemic was the supply chain. Things in our industry already take longer as it is. Now, a 4 month lead time is 6 months. That has been a big challenge for us. But it is slowly getting better, so that's good.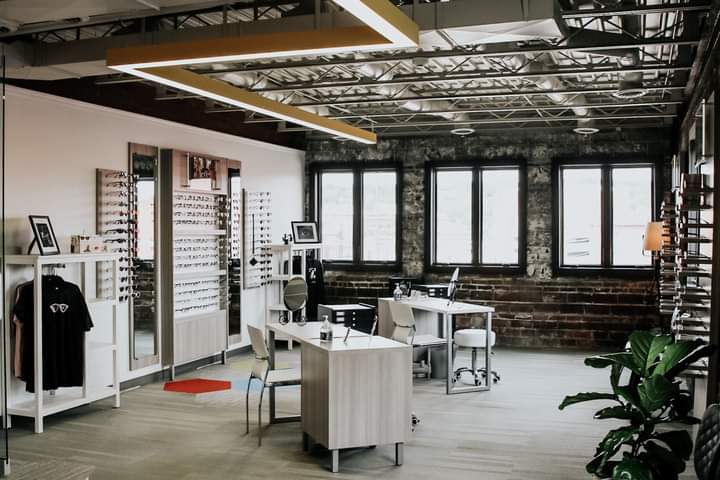 What does the future look like for Eyes of Faith? What would you like to see happen over the next few years?
Amy: For the immediate future, Sharon City Eyeworks is our big focus. Bringing the opportunity for more exams to our community so people can get in for an exam in a reasonable amount of time. We're starting with one exam room. We want to start with what we have, but we definitely want to grow that. We're looking forward to outgrowing our exam space here.
Jim: Yeah, there's definitely scalability with that. The main thing is that we always want to keep growing the Eyes of Faith brand. We're looking at adding more independent sales reps, we've already added a number of them over the last 6 months. We want to keep growing each segment. And we're excited about this next segment, because it's just a diversification in our same industry. I wanna see this place hopping, and I'm looking forward to watching it happen. We want to be the "talk of the town" in our community.
Amy: We get excited to bring people in and show off our town. Most people don't realize that there are 2 fashion brands right here in downtown Sharon. We want to be able to bring people into the design process and educate them and let them experience what we do. Bringing in interns, and sharing what we do, and having people come in from big cities, it's so much fun. We have so much pride in Sharon and what JCL is doing here.
What advice would you give others who are thinking about or have just started their own small business?
Jim: Well, there are the 4 Ps of marketing (product, placement, pricing, promotion.) I have my own 4 Ps, which are prayer, purpose, passion, and perseverance. And then from a sales perspective I always add in two more, "polite persistence." It really comes down to, if you're starting a business, you have to expect not to make any money for the first 18 months.
Amy: Absolutely. You have to do this for the joy and what you're passionate about. The other thing you always say, Jim, that I would add is "the greatest risk is not taking the risk." We would have missed out on so much over the last 14 years if we had never taken the risk. People thought we were crazy. It was the middle of the 2008 financial crisis, and Jim quit his job! For us, the biggest risk really would have been not taking that risk. We would have missed out on so much, and it was absolutely worth it!
To learn more about Eyes of Faith, visit their website, follow them on Instagram (@eyesoffaith1), like them on Facebook, or visit them in person at 44 N Sharpsville Ave in Sharon, PA.