Sharon, PA is a small Rust Belt town being given a second chance at life. Our mission here at JCL Development is to lead the charge to restore and reenergize our town. Every day we are collaborating, creating, striving, and reviving to help polish this hidden gemstone.
CycleLife Studio

Part one of the Independent Retailer's Month interview series featuring small businesses here in Sharon, PA.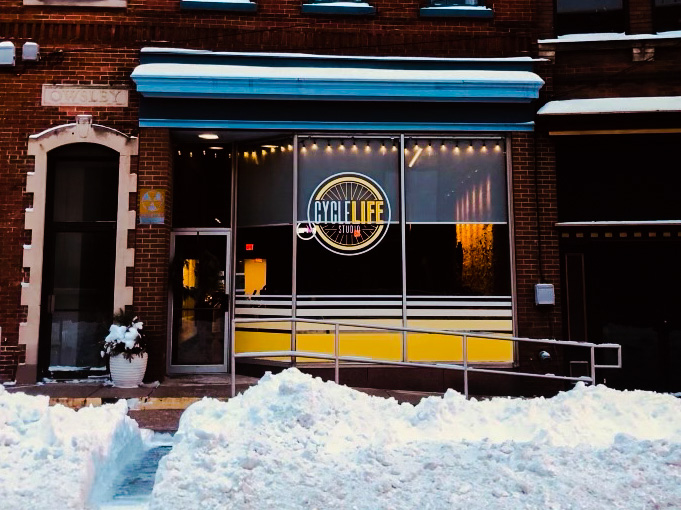 Photo Credit: Amy Javens/Brandon Baroni (CycleLife Studio)
In celebration of Independent Retailers Month, JCL Development reached out to several small business owners here in downtown Sharon, PA in hopes of highlighting all the wonderful and unique things we have to offer. For my first interview, I met with Amy Javens. Amy is the owner of CycleLife Studio. I learned more about her business and her role in the revitalization of downtown Sharon, PA. Here's what she had to say…
Tell me a bit about CycleLife. What services do you offer?
Primarily, our forte is indoor cycling, which many people know as "spinning." Spinning and indoor cycling are the same thing, it's just the branding that is different. We do anything from rhythmic classes to more pure cycling classes, as if you are riding on the road. Rhythmic classes have a little bit more of a dance feel to them, a lot of up and down. We also have some classes that are a bit of a hybrid between those two extremes.
Who is your main customer base right now? Are they Sharon locals, or do you see a lot of people traveling in?
Both. We see Sharon locals, as well as people coming from as far as New Wilmington, Youngstown, even Sandy Lake, so we really do have a wide range of people. A wide range of demographics as well, from young to old, teenagers to as old as 70. We have men and women, people who are fit and have been cycling for years and people who are just starting out. So we really see a wide variety of people coming here to cycle.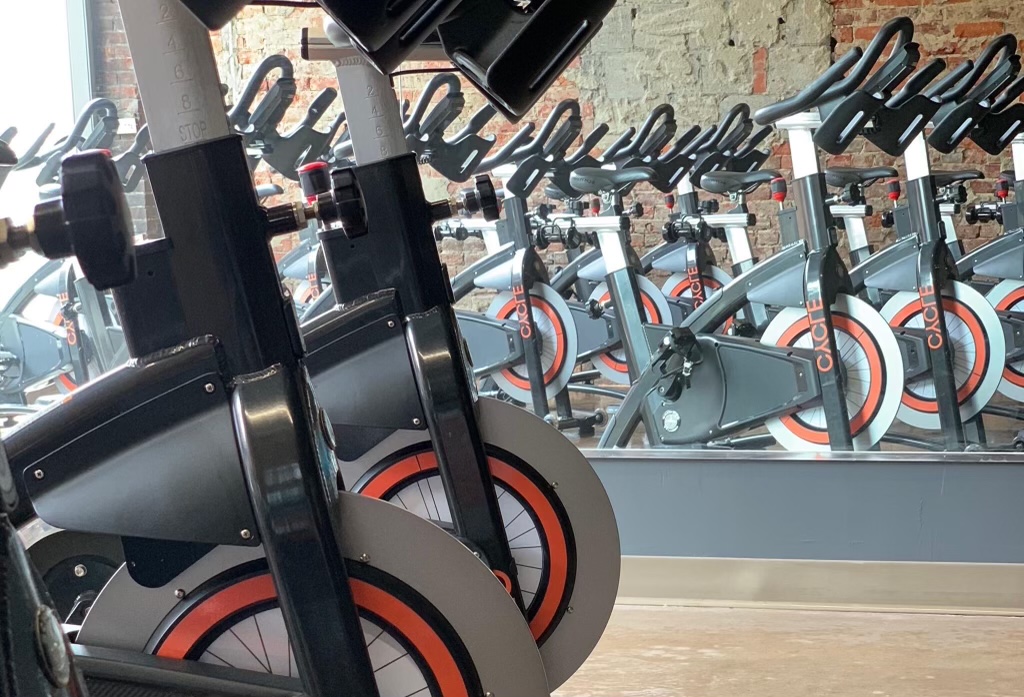 When did CycleLife open?
We did a soft opening last May [2021] and we did a grand opening last August, so technically we just celebrated our first year anniversary.
How has it been going so far?
It's been the normal up and down of starting a business, especially a brick and mortar fitness business. And then, of course, you add in the pandemic. We opened the same month that the mask mandates were starting to be alleviated. It was actually a great time to open, people were excited to get out again. We did have some people who still came in their masks and cycled, they were great and have been clients of ours since the beginning.
How did you end up as a small business owner? Was this kind of fitness studio something you were always interested in, or did it come your way by surprise?
I always wanted to open a cycling studio, for quite some time. My background, at least we'll say for the last 15 years, is that I was a professional triathlete on the Iron Man circuit. I traveled around and did many, many Iron Man races. In all, I think I've done about 30 of them. I've been to places like Hawaii, Australia, Mexico, and lots of places in the States. When I retired in 2018, I was looking for the next challenge, and owning a business has always intrigued me. So I started looking around at locations.
Why Sharon? What made you want to "set up shop" for CycleLife here?
I looked at the typical "plaza" locations around the area and just felt like "there's no ambiance here," it's all just white walls. We had heard about what JCL Development was doing here in Sharon, and had always been interested in downtown Sharon. I grew up literally 2 miles away, and I had some really great memories of coming to downtown Sharon as a little girl. I actually came shopping with my mom in the building we are in now, which at the time was a furniture store.
At the time I was looking for a space, JCL had started to demolish and renovate the building. I reached out and they took me on a tour. We walked through and looked at what the best space would be for what I had in mind. When we got to this space, there were still cubicle offices and walls still up, but it was a really perfect space. I knew I only needed about 600 square feet or so, and this ended up being the perfect spot.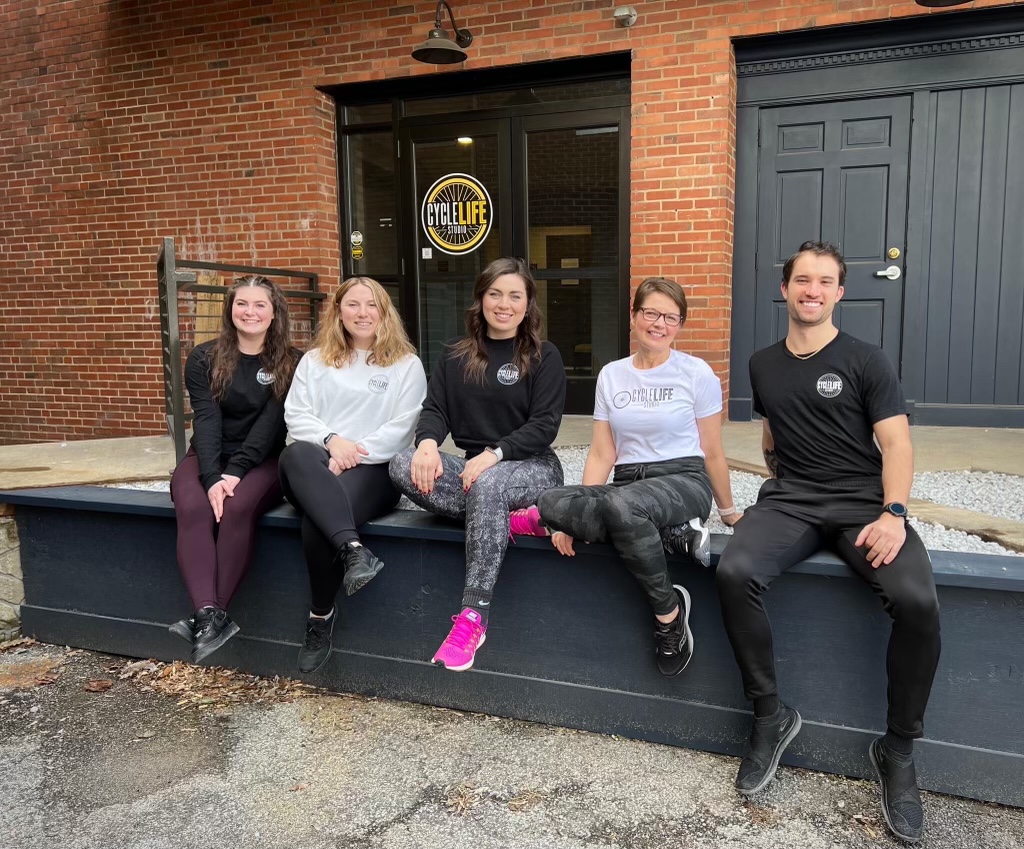 What is your favorite part about owning your CycleLife?
Going back to the Sharon thing, I think my favorite part is being part of something bigger down here. It's not just about us opening a business. Anyone who opens a brick and mortar fitness business knows you won't become a millionaire. So it's more about the passion and being a part of the revitalization down here that is exciting. Being a part of a community that believes in something bigger, and seeing that start to happen is really cool. I also really love all the different people coming in, especially after the pandemic. The past 3 years, people were going crazy, and it's great that we can just leave that all outside when we come into the studio. We can ride to a common beat, have fun, and leave happier than when we arrived. I love being a part of that.
I know we talked about the struggles of the pandemic. Was there anything that was challenging for you personally opening CycleLife?
We were delayed a bit with getting our bikes because of manufacturing delays. I think it was the pedals and saddles, they just weren't making them, so that was tough. In addition to CycleLife, I work for a virtual coaching company where I do online endurance coaching for athletes. I also work with charity teams. During the pandemic a lot of changes happened, and I had taken on more leadership roles.
I was in the process of starting up CycleLife and said to myself "I don't think I can do this on my own." The company I worked for made the choice to invest in me. So CycleLife is really under the umbrella of QT2 Systems, but I have the power to do what I need to do with the studio, which is really great. CycleLife is an investment in revitalizing Sharon, but also an investment in something bigger outside of Sharon as well. I'm still able to fulfill all my other roles, in addition to managing CycleLife.
What does the future look like for CycleLife? Where would you like to see it go over the next few years?
Well, we always prioritize it growing. We offer over 30 classes a week now, and we've expanded the types of classes we offer. About 80-90% of our classes are spinning classes, but over the last year we added 2 yoga classes a week. The yoga classes really complement our cycling classes and get our clients "off the bike" and stretched out.
A lot of our other growth has been very organic as well. If people ask for something different, we'll add it. For instance, some people asked for a strength class, so we added that on. My husband, who is a local physical therapist, does a "functional movement" strength class. Most of my instructors were actually clients first, and became instructors very organically. I mentored all of my instructors, it really is a "learning studio." If anyone shows interest I can pull them up with me on stage and mentor them, and then they can go through the process of getting certified. We pretty much "made" our own instructors from within. I always say "This isn't MY studio, it's OUR studio."
I always try to challenge my instructors to try something new, and we've seen a lot of new ideas that way. For instance, we offer a total body bootcamp now because one of my instructors wanted to teach it. It's a small class, but people have loved it. So as far as the future goes, we're going to keep organically growing to what the needs are in our population and see where that takes us. Ideally, my job would be to do less and less and let my instructors take on more.
What advice would you give to anyone who is looking to start their own small business? What have you learned from what you've done?
For me, it was one of the scariest things I've ever done, but I've always been intrigued by owning a small business and I love a challenge. It's very much like being a competitive athlete. You're going to have those ups and downs, but you've gotta put your nose to the grindstone and put the pedal to the metal pretty much every day. But you also have to take some time for yourself too. When we first opened up it was just me and Danielle, and I was teaching 10-12 classes a week, sometimes more. I went strong for a while, but I couldn't do it forever. The key is to surround yourself with a good team, and keep the bigger goal in mind.
Reach out to other small businesses too. You can't be in your own shell, you have to really collaborate to succeed. We've done some different events with other small businesses here in Sharon, and we support each other. We're always stronger together than by ourselves. And you've got to have confidence in your business, and have confidence in yourself and with your demographic. Not everyone is going to be your clientele, and that's okay!
To learn more about CycleLife Studio and the classes they offer, you can visit their webpage, follow them on Instagram (@cyclelifestudio_pa), like them on Facebook, or visit them in person at 25 Chestnut Ave in Sharon, PA.