Sharon, PA is a small Rust Belt town being given a second chance at life. Our mission here at JCL Development is to lead the charge to restore and reenergize our town. Every day we are collaborating, creating, striving, and reviving to help polish this hidden gemstone.
Sugar Magnolia

Part six of the Independent Retailer's Month interview series featuring small businesses here in Sharon, PA.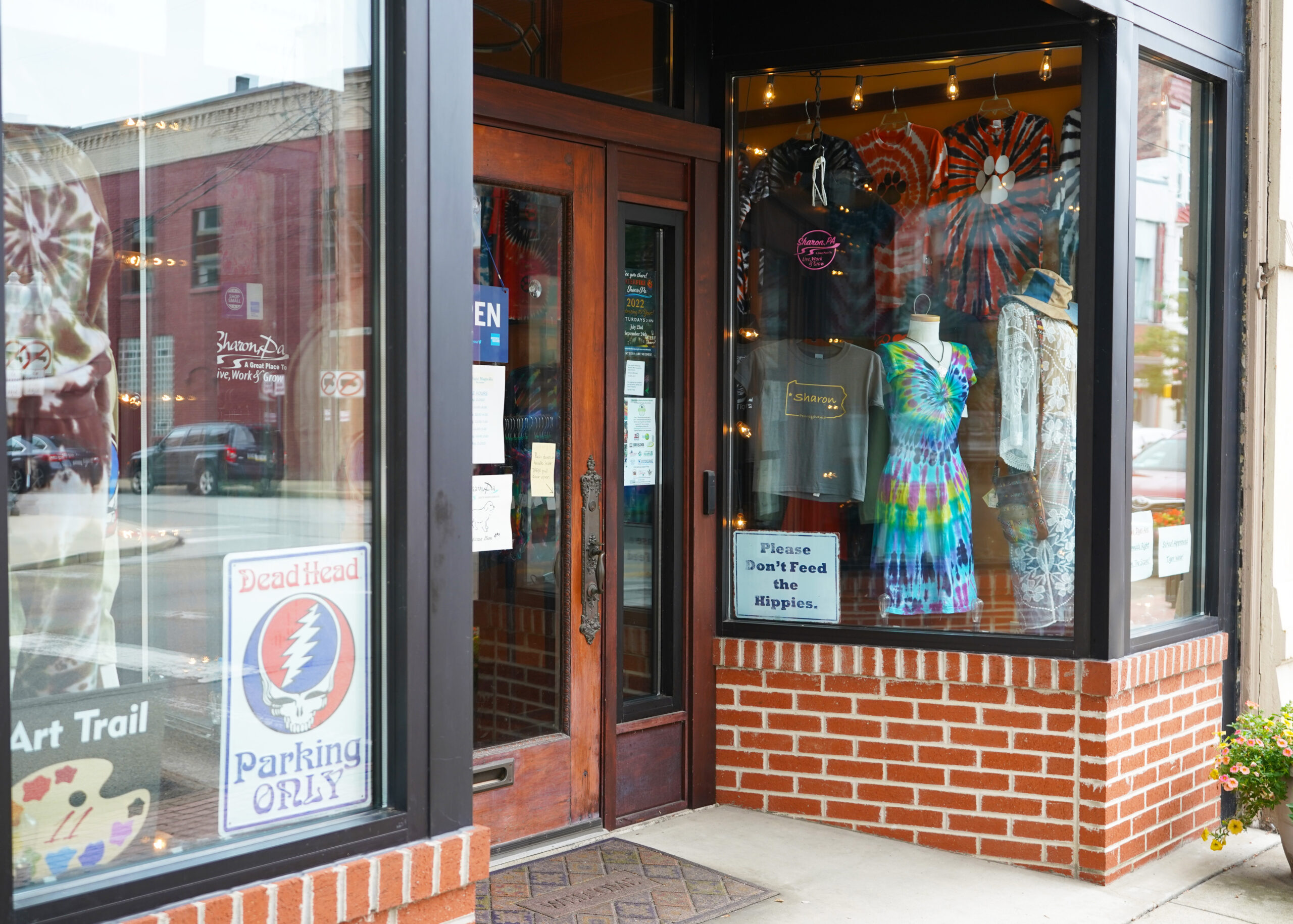 In celebration of Independent Retailers Month, JCL Development reached out to several small business owners here in downtown Sharon, PA in hopes of highlighting all the wonderful and unique things we have to offer. This week, I met with Leanne Ekis, the owner of Sugar Magnolia Merchandise, to learn more about her business and her role in the revitalization of downtown Sharon, PA. Here's what she had to say…
Tell me a bit about Sugar Magnolia. What products or services do you offer?
I offer tie-dye here, really, that's our main "thing". I make all the tie-dye items myself, at this very table. Custom orders are big, like the ones you see hanging on the walls there. I can also do private tie-dye parties, or tie-dye classes. The store also offers some other gift-type items. I have a few different things made by local artisans. For instance, we sell pieces by MJ's Woodworking, she makes really cool handmade wood pieces. Panache by Shelly and Soul's Journey, they both make jewelry that we offer here. I also just got in Scents by Sylvia, she makes homemade candles. We've got all sorts of cool things here.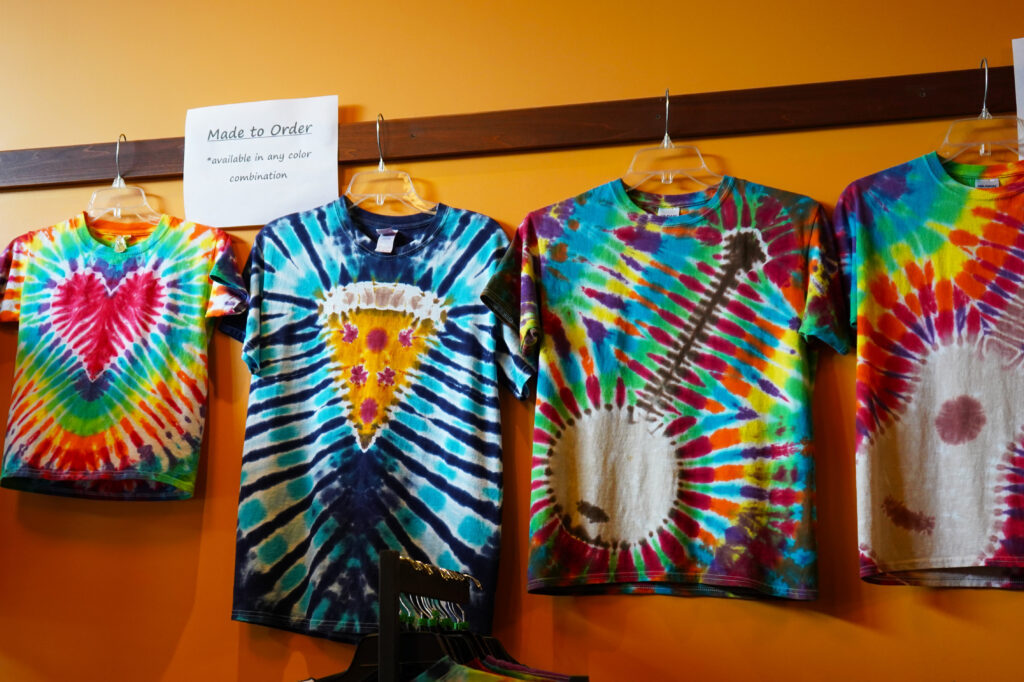 When did you open Sugar Magnolia?
I opened the store in April of 2016. Before that, I just did tie-dye in addition to my "day job". I would make my tie-dye, and travel to different craft fairs and festivals and sell it as a side hustle. Unfortunately, the place where I was working full-time went out of business. I'd been there for about 15 years, and was figuring out what I wanted to do next when someone said to me, "Well why don't you just sell your tie-dye?" I mean, I was already doing that, but the next step was opening a store.
At first, I wasn't sure. I didn't know the first thing about running a business back then. But this space had just opened up when the Emerald Tablet moved down the street, and I figured I would at least look at it and see what the rent was. It wasn't as much as I thought it was going to be, so I decided to give it a go! It worked out pretty great. We'll be celebrating our 6th anniversary with a party on Saturday, August 6th.
Who is your main customer base? Who is shopping here most often?
Most of my customers are women, honestly, anywhere between age 25 up through age 85 and over. We get a lot of customers who either grew up in the 60s or love that era. A lot of hippies are coming in! But we do get some variety. I sell things for men, and lots of stuff for kids and babies. We get parents and grandparents buying for their kids and grandkids. A lot of people buy things as gifts. We sell Sharon "Tiger Wear" for the Sharon school district, so that's always a great gift for students of all ages.
Author Sidenote: If you are a dog lover, Sugar Magnolia is dog-friendly! The first Thursday of every month is the Dog Day sale! You get 10% off if you bring your doggo to the store with you!
You told me a bit about how you ended up as a small business owner. Is this something you always wanted to do?
It kinda fell out of the sky, honestly. But after I opened the business, I did remember something I said back in high school. You know how, for Senior Year, they always ask Seniors what they see themselves doing in 10 years? Well, I remember thinking "What's the most hippie thing I could be doing?" So I said I wanted to move to California and sell tie-dye. At that point I think I had only ever made 3 tie-dye pieces total. When I opened this business, even though it's not in California, I ended up doing exactly what I said I would do in high school!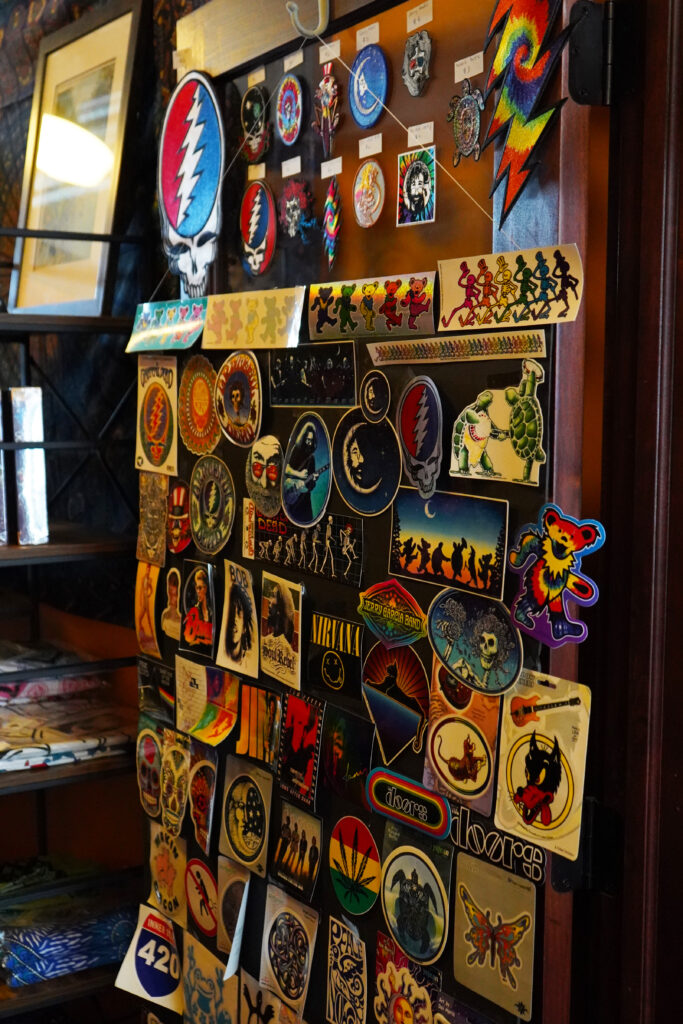 Why Sharon? Instead of going all the way to California, what made you want to start up Sugar Magnolia here?
I grew up here, and I like the town. At that time, shortly before I opened the store, everything was just beginning to change here. People had started to come in and say "We're going to rejuvenate Sharon!" New stores were opening, so it was a good time. Downtown is very walkable, which is great, especially during times like WaterFire. I mean, I used to just set up a booth on the sidewalk here during WaterFire, and now I have my own store.
What is your favorite part about owning Sugar Magnolia?
I love being able to make my tie-dye. That's really what this whole adventure was about. I love being creative, and I especially love when my customers get very excited about something I make for them or when they see something they like. It's fun when customers enjoy my product!
What is your biggest challenge as a small business owner?
Right now, the challenge is getting people in the store. That's the main thing. I know something I can be better at is my social media presence. Marketing myself is kind of tough for me. And I'm so busy doing everything here that sometimes a lot of time will go by before I realize "I haven't really posted anything to Facebook lately…" Running your own business is a lot sometimes, so little things like social media can slip through the cracks.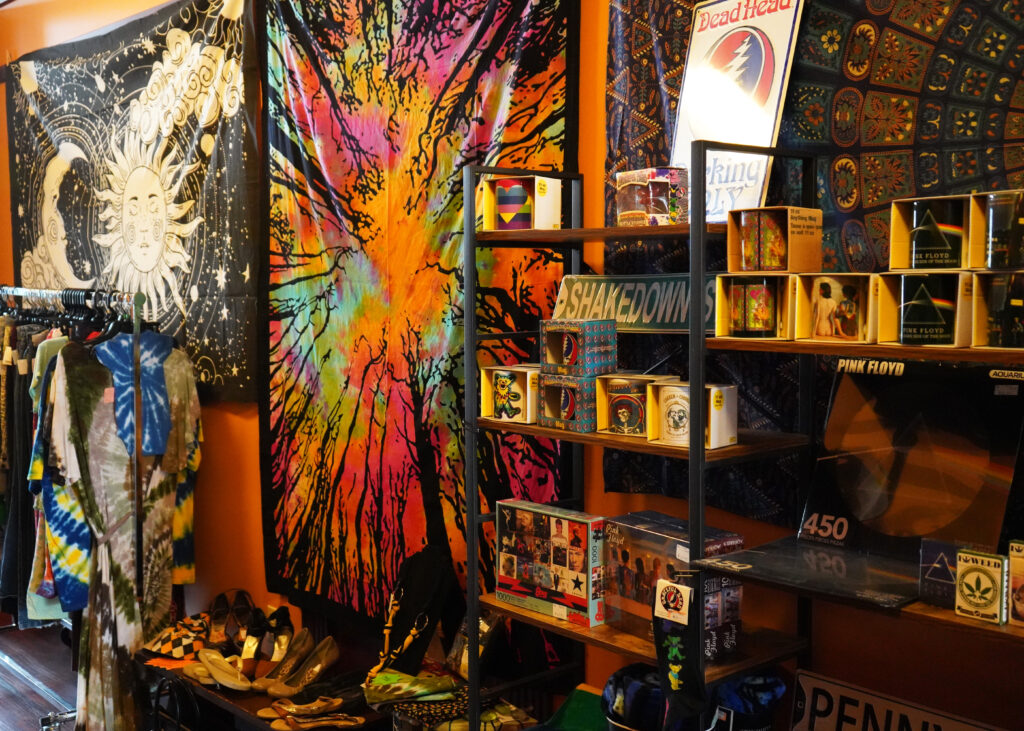 What does the future look like for Sugar Magnolia? What would you like to see happen over the next few years?
I would love to grow my customer base. I want more people to stop in and shop, and build that loyalty. That would really help bring in more money, obviously. Bringing more customers in and doing more custom work would let me do more of what I love, which is being creative with tie-dye.
Ideally, I'd want downtown Sharon to grow as a whole in the same way. I would love for all the small businesses down here to really succeed. We want downtown Sharon to be the place to be!
What advice would you give others who are thinking about or have just started their own small business?
Well, if you're like me and come in knowing nothing about running a business, definitely learn more about that! It seems simple, you just have to "make more money than you spend". There's so much more to it, though. It's a lot of work. You have to have "hustle"." I come in to work, I'm here for the hours the store is open, and then I'm also working when I go home. It can be stressful, but it can be very rewarding too. Sometimes it's like a roller coaster, so be prepared to take a ride!
To learn more about Sugar Magnolia Merchandise, like them on Facebook or visit them in person at 110 E State Street in Sharon, PA.