Sharon, PA is a small Rust Belt town being given a second chance at life. Our mission here at JCL Development is to lead the charge to restore and reenergize our town. Every day we are collaborating, creating, striving, and reviving to help polish this hidden gemstone.
Thyme In Your Kitchen

Part five of the Independent Retailer's Month interview series featuring small businesses here in Sharon, PA.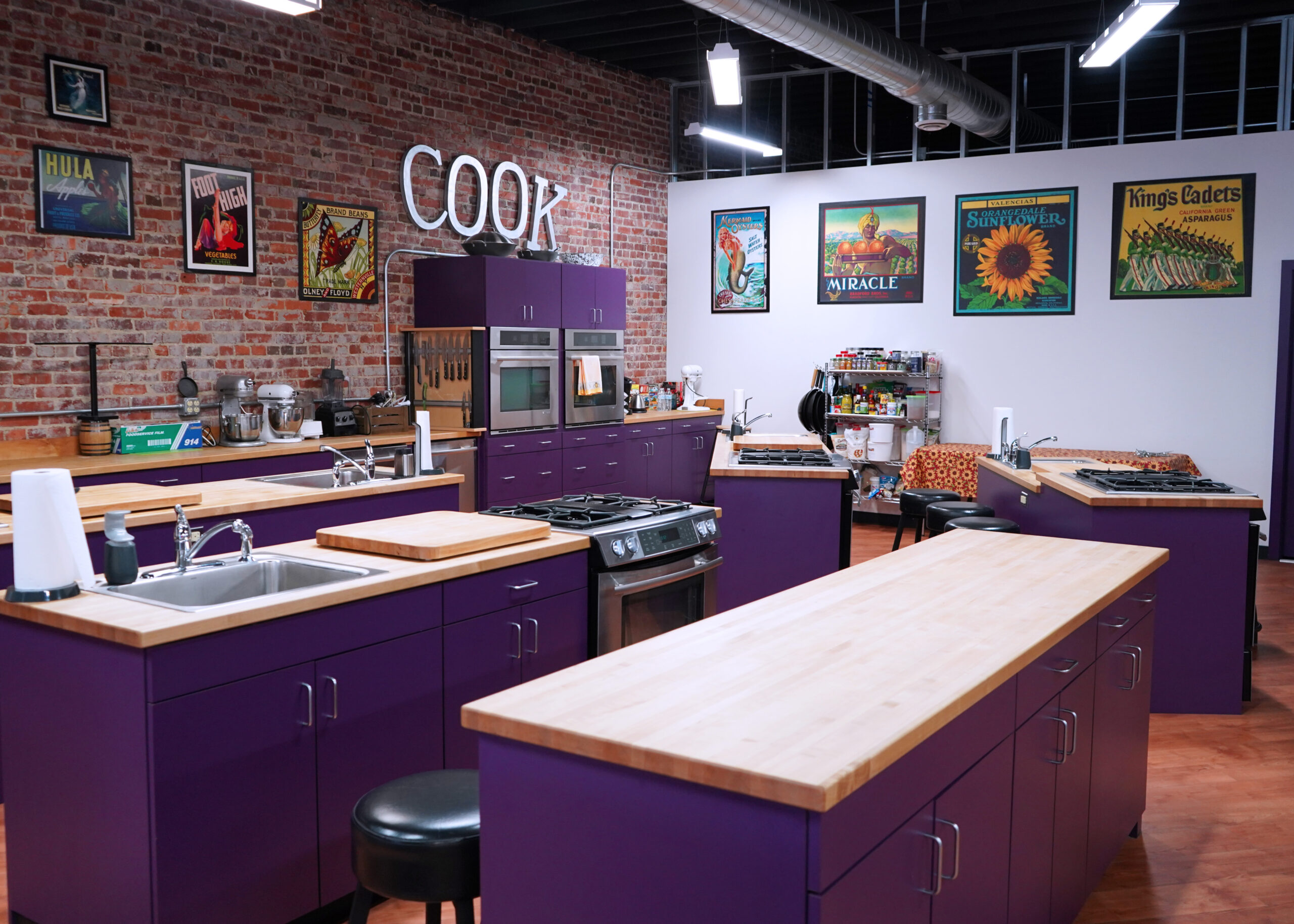 In celebration of Independent Retailers Month, JCL Development reached out to several small business owners here in downtown Sharon, PA in hopes of highlighting all the wonderful and unique things we have to offer. This week, I met with Pat Evans, the owner of Thyme In Your Kitchen, to learn more about her business and her role in the revitalization of downtown Sharon, PA. Here's what she had to say…
Tell me a bit about Thyme In Your Kitchen. What services and products do you offer here?
We like to think of ourselves as a culinary boutique. We find the things that are difficult to find at big box stores. We like to offer those unique and different things here. We have the basics as well, of course, but we try to offer our customers something special that you won't find anywhere else.
We also offer recreational cooking classes. The cooking classes are designed for everyone from a beginner who knows nothing about cooking to an expert. Everyone is going to find something that appeals to them when they come to a class. The classes are really a lot of fun.
When did you open Thyme in Your Kitchen?
We celebrated our 8th anniversary on March 29th [2022]. It will be 9 years ago in the fall that we found this space. We were actually here for one of the first WaterFire Festivals. We looked for a space while we were here. This space was empty, and we saw the potential immediately. We peeked in, and immediately thought "This is just a perfect space." We leased it, and a few years ago we bought the building. We own this floor, the second floor upstairs, and the pottery studio next door as well.
Where did the idea for Thyme In Your Kitchen come from? Whose idea was it?
It's not a unique idea, honestly, but we did put our own spin on it here. I lived in Pittsburgh for 20 years, and I always loved to take classes. The University of Pittsburgh used to offer several informal programs, I took everything from sign language to wine tasting to Chinese cooking. It was always a lot of fun. In Pittsburgh, they also had a couple places that offer recreational cooking classes. I always enjoyed those. Even after we moved home, my husband and I would travel to the South Hills every once in a while to take those classes. I've always loved to cook, and I also really like kitchen gadgets. I loved the idea of bringing something like that to this area to share with people here.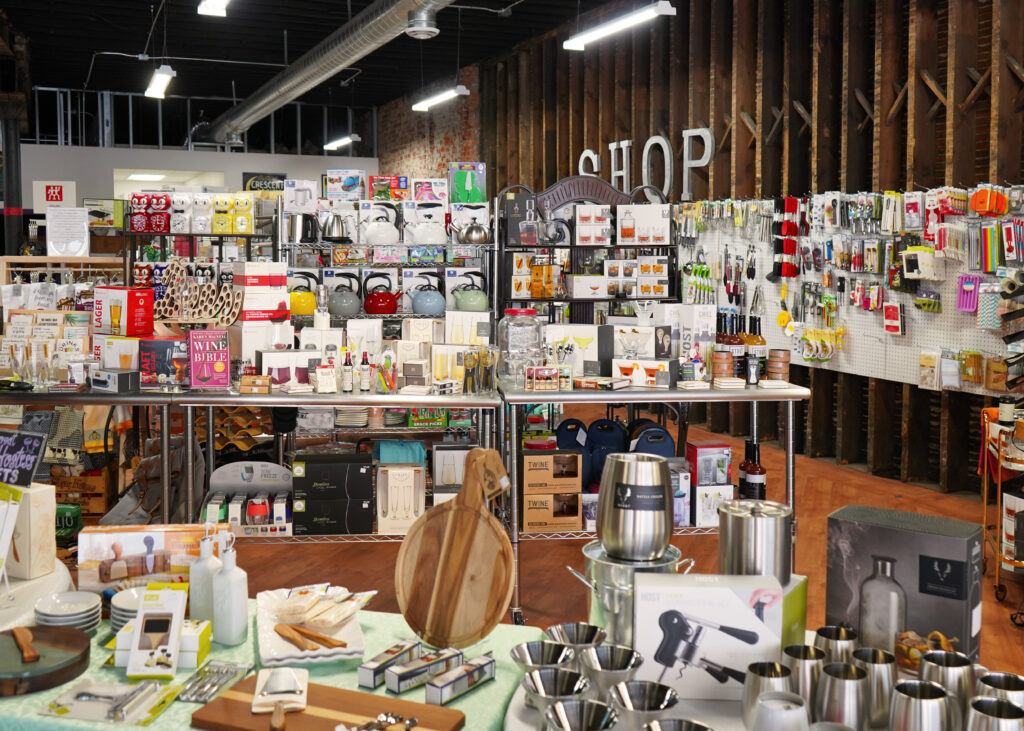 Why Sharon? What made you want to "set up shop" here versus a city like Pittsburgh?
My husband and I are both from Sharon. I moved away for a while, but he was always here. We knew each other from grade school, went our separate ways, and reconnected again 24 years after high school. When we got married, I moved back here from Pittsburgh. My husband works for First National Bank, and he's very involved in the community in Sharon. He's currently the president of the Sharon Community Development Corporation. With all the efforts he has been putting in over the years, we just saw the potential of opening our business here. We decided to jump in and make a significant financial investment here, and we never regretted it. We love it here, we love the space, we love our customers.
Who is your main customer base? Do you see mostly locals, or do you have people traveling in as well?
We have people who come in for classes from as far away as Erie, Cleveland, Pittsburgh, Slippery Rock, and all over really. We do see a lot of locals, but it's a good variety. And we see a mix with our shoppers too, the people just coming in to buy things. We do bus tours, and a lot of corporate team building classes here. Our public cooking classes are offered on our website, but we also do private classes for groups. We do birthday parties, bachelorette parties, we even had a wedding reception here. 
How did you end up as a small business owner? What was the path to get from taking classes yourself to owning this business?
I always knew I wanted to eventually work for myself. This kind of environment was always attractive to me, and I've always liked business. I have my undergraduate degree from Penn State in finance, and I went on to get my MBA, as well as my masters degree in Health Administration. I spent most of my career managing health care from the business side. I've always been especially interested in the entrepreneurial side of business. In health care, I started in hospitals, which are very structured and corporate, then went to private practice for the bulk of my career. That was my first taste of running a business. The surgeons I worked for let me take the reins on the business side so they could focus on the medical side. I really liked it, so it made sense to start my own business when the opportunity came up.
What is your favorite part about owning Thyme In Your Kitchen?
I think my favorite part is being able to offer this unique experience to our customers. I honestly don't think we've ever had a customer leave here unhappy. And it should be a happy place! I believe that cooking for yourself or for your family, there's a lot of love that goes into that. The idea of cooking together in small groups is very communal. There's just something great about preparing and sharing a meal together. People become friends through the process. I've seen people exchange business cards and build friendships here just because they took a class together as strangers. It's such a fun experience, and people really do leave here happy because of it.
One of my favorite classes we do here every year is the Gingerbread House class. My chef Garron prepares all of the pieces, and the families come in and build them and decorate them. We have families who have done it together for years. It's a tradition for them. It touches me, because when their kids grow up they'll remember coming here, and we become a part of their family memories. I love that!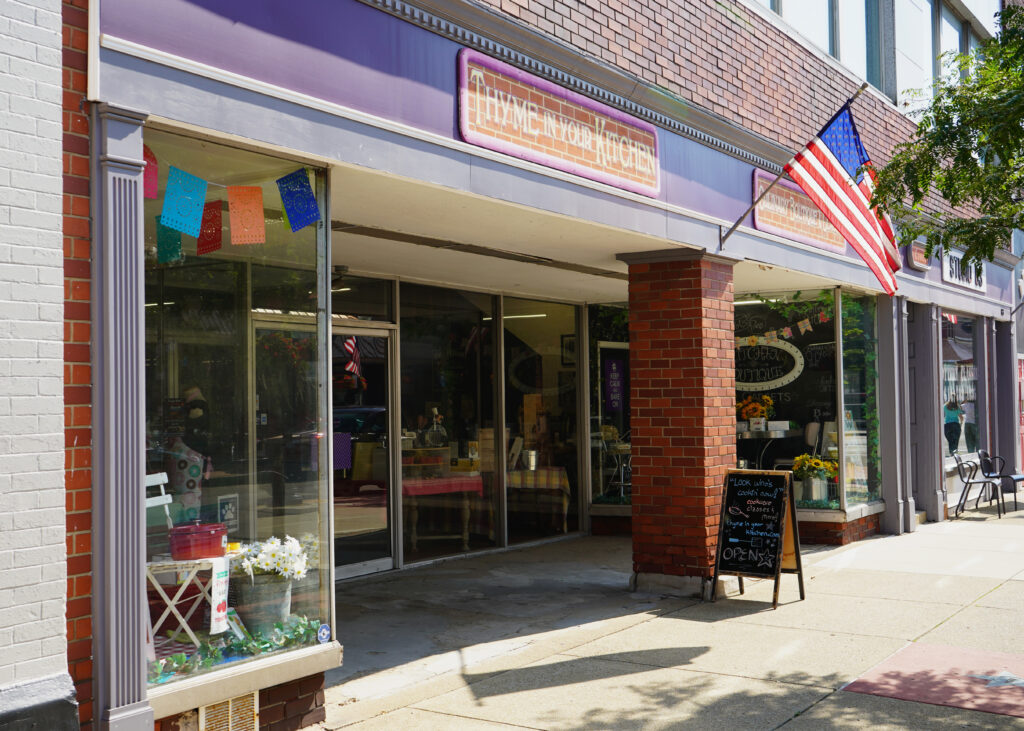 What has been a challenge for you as a small business owner?
Of course, the pandemic was challenging. We have a lot of great stuff going on. Garron manages the store and teaches all my classes here. Right now he has over 500 unique classes recorded, which means it's been more than 600 classes when you consider the ones we repeat. The pandemic was a huge hit to that, but we managed through it. There was a period of time where we didn't hold any classes. Then, we started to adapt and offered smaller classes, and offered classes at multiple times throughout the day to keep people spread out. And people came back. We just followed the safety protocols, and really focused on sanitation and masks. So that was a challenging time.
Something else we've had to deal with were some misperceptions, unfortunately. When we first opened, we had a few people come in, look around the shop, and say "You don't belong here." There was just this idea that this was the wrong place to open a business like this. We just persevered because we knew this is exactly where we belonged. We don't need to be in a big city, people here like to cook too!
What does the future look like for Thyme In Your Kitchen? What would you like to see happen over the next few years?
We are already growing, we just opened our second location in Grove City. They approached us, because there were no more kitchen stores out there. That was the number one request from their customers. So we just opened there on the 1st of June, and it's been a little crazy. It was definitely a challenge finding staff, but I have a great team in place now. I have another chef who used to teach for us here, a pastry chef actually, who manages that location.
It's a different customer base out there, but we're learning. A lot more foot traffic there, but people here are loyal to us and we see them over and over again. We have that loyal customer base in Sharon. That's something we will have to wait and see if we have in Grove City. Although, I will say that there are a lot of locals who also go there to shop, so we'll see! It's been a learning experience overall.
What advice would you give others who are thinking about or have just started their own small business?
Be prepared to work really hard. It is a grind. When we first opened here, I was still managing the orthopedic office in Pittsburgh. I was doing both at the same time. I had some support to work remotely, but I was still in the office there a couple days a week. I had family members here who helped by working at the store, but my husband and I made sure we were here for every single class. We greeted all our customers, and we were scrubbing the pots and pans after every class. It takes a lot, but it is so worth it. You just have to be prepared for the hard work that goes along with it.
You also have to be in it for the long haul. We've been here 8 years, and we're now starting to pick up momentum. You have to have the big picture in mind, and don't expect success overnight. It's work, but it's worth it.
To learn more about Thyme In Your Kitchen and the products and classes they offer, you can visit their website, like them on Facebook, or visit them in person at 79 E State St in Sharon, PA.